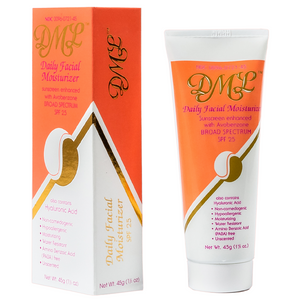 DML Daily Facial Moisturizer SPF 25
| Add your review
Item # :

28200
Hydrates and protects with the power of Hyaluronic Acid and Dimethicone.
Fragrance-free and dye-free formula
Nourishes and protects for softer, healthier skin
SPF 25 guards against daily exposure to UVB and UVA rays
Natural moisturizing ingredients keep skin feeling soft and smooth
Soothes skin affected by topical chemical treatments
Enhances the skin's natural protective layer
Formulated with minimal ingredients to help avoid skin reactions for sensitive skin!
Frequently Asked Questions
•••
Q: Overall, my skin feels pretty good.  How can I help keep it that way over time?
A:  Using DML Daily Facial Moisturizer is an option for helping prevent dry skin.  Its rich formula goes on easily and contains Dimethicone to help your skin feel soft and smooth. 
•••
Q: I'd like to use a moisturizer that can help my skin feel protected after receiving facial peels.  Do you have something gentle enough?
A:  Yes, in fact our DML Facial Moisturizer contains both Hyaluronic Acid and Dimethicone which are ideal for soothing skin after topical chemical treatments.  In addition, DML Facial Moisturizer contains a sunscreen to help protect your delicate skin from sun exposure.
•••
Q: Does the DML Facial contain any added fragrance or dyes?
A: All our moisturizers are free of added fragrances or dyes.
•••
Q: I'm looking for a product that won't cause my skin to break out? Any suggestions?
A: All our products are non-comedogenic including our moisturizers, which means they will not clog pores.
•••
Q: How well will the DML Facial Moisturizer protect my skin from the sun?
A: DML Daily Facial Moisturizer contains SPF 25 for daily broad-spectrum protection from UVA and UVB rays.
•••
Q: Will this moisturizer work well under makeup?
A: Yes! DML Daily Facial Moisturizer is an excellent base for makeup.
•••
Q: Is DML Facial a sunscreen or a moisturizer?
A: It's both! DML Daily Facial Moisturizer contains SPF 25 for daily sun protection and Hyaluronic Acid to help protect and moisturize skin.
•••
Q: Can this product be combined with other moisturizers?
A: Yes, we suggest using this product with DML Forte for additional moisture especially in drier environments.
Testimonials

"What a great idea, a facial lotion with sunscreen in it!"
"I use DML Facial every morning before I put on my make-up. It makes me feel good."
"When I put it on it soaks in fast and does not leave a greasy feeling. I highly recommend this product."
"I recently had laser treatments on my face. My doctor recommended DML as the best way to preserve the benefits of treatment. I completely agree!"
"Very good for sensitive skin. I plan to order more."
"DML Facial Moisturizer SPF 25 is the first moisturizer in 15 years that my face has tolerated. As a rosacea sufferer my skin is always very dry from medicated face wash and topical medication. Other moisturizers would burn or itch so I would discontinue using them. A new dermatologist recommended I try a sample of DML, my face is smoother and more supple than it has been in years."
"Something that finally works!"
"This was recommended by my dermatologist for dry, itchy skin with some rosacea. It is so much better than any product I have ever used. My skin is smooth and hydrated."
ACTIVE INGREDIENTS: Octinoxate (Ethylhexyl Methoxycinnamate) 7.5%, Homosalate 6%, Avobenzone 3%, Octocrylene 1.5%, INACTIVE INGREDIENTS: Purified Water, Propylene Glycol Diethylhexanoate, Petrolatum, Glycerin, Glyceryl Stearate and PEG-100 Stearate, Cetyl Phosphate, Stearic Acid, Hyaluronic Acid, Dimethicone, Cyclomethicone, Benzyl Alcohol, PVP (and) VP/Eicosene Copolymer, Silica, Sodium Hydroxide, Allantoin, Carbomer, Disodium EDTA, Magnesium Aluminum Silicate, Citric Acid
1. Octinoxate (Ethyl Methoxycinnamate)

UVB protectant

2. Homosolate

UVB protectant

3. Avobenzone

UVA protectant

4. Octocrylene

UVB protectant

5. Water
6. Propylene Glycol Diethylhexanoate

Skin Conditioner

7. Petrolatum

Moisturizer

8. Glycerin

Moisturizer

9. Glyceryl Stearate (and) PEG-100 Stearate

Emulsifier

10. Cetyl Phosphate

Emulsifier

11. Stearic Acid

Emulsifier

12. Hyaluronic Acid

Moisturizer

13. Dimethicone

Skin protectant

14. Cyclomethicone

Skin Conditioner

15. Benzyl Alcohol

Preservative

16. PVP (and) VP/ Eicosene Copolymer

Skin Protectant

17. Silica

Thickener

18. Sodium Hydroxide

pH adjuster

19. Allantoin

Skin Protectant

20. Carbomer

Emulsifier

21. Disodium EDTA

Preservative

22. Magnesium Aluminum Silicate

Thickener

23. Citric Acid

pH adjuster
DIRECTIONS: Apply to face and neck evenly, as needed or as directed by your physician. Works as an excellent makeup base.
Uses: Moisturizes and helps to relieve irritated and sensitive facial skin. Higher SPF gives more sunburn protection. Water resistant.
Caution: For external use only. Avoid contact with eyes. If contact occurs, rinse eyes with water. Keep out of the reach of children. Keep at room temperature.
Stop use and ask a doctor if: Condition worsens or does not improve after regular use.
Keep out of reach of children: If swallowed, seek medical help, or contact a Poison Control Center immediately.
Other information: High sun protection product.
Limiting sun exposure, wearing protective clothing, and using sunscreens may reduce the risk of skin aging, skin cancer and other harmful effects of the sun.